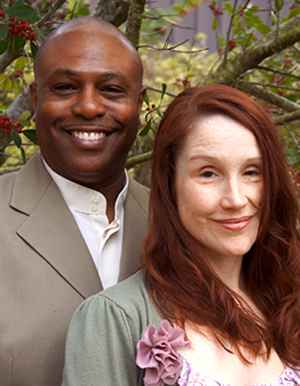 Byron and Cindie have been actively involved in ministry serving many communities as a missionary since the 1990's. They left their home in Wisconsin to become missionaries to the New Orleans area post Hurricane Katrina in 2006. They are Licensed/Ordained ministers through City Church Madison, WI – Under the covering of the FCA (Fellowship of Christian Assemblies). 
Their areas of service include: Pastors of the "Well Prayer House" – Madison, WI, Campus Pastors at Victory Fellowship Church – Broad St., New Orleans House of Prayer, S.A.M.E (So All May Eat) Homeless and Hungry Outreach, Pregnancy Counseling Center (a ministry of YWAM), The Well Ministries (Sock/Prayer Ministry for the homeless, Inner-city Evangelism, missionary housing and support, and the Workforce Program – Working with Inner City Youth).
Byron and Cindie are both involved in various music ministries. Cindie was the worship Pastor and director of the IHOP New Orleans, and is currently leads worship when called upon, trains and develops up and coming worship leaders and is the director of the Well Prayer House. Byron when called upon, travels The U.S. with Tribe Quantum under James Nesbit, and the teachings of Ray Hughes. 
Connect with Pastor Byron on Facebook
Below you will find Byron and Cindie's sermon recordings. They are separated by subject. The sermon's MP3 will steaming to your computer or smart phone, or you can save the file to your computer. The sermon notes are directly below the audio files.
Click on the Links to begin
1. Holy Spirit 
Understanding God When it Rains
The Holy Spirit Submit and Commit
1 The 9 Gifts Compared to The 9 Fruits
2 The 9 Gifts Compared to The 9 Fruits
3 The 9 Gifts Compared to The 9 Fruits
4 The 9 Gifts Compared to The 9 Fruits
5 The 9 Gifts Compared to The 9 Fruits
2. Love
Investment of Love
Love
Love – Sermon Notes
Living Sacrifice – Sermon Notes
3. Healing
Check Your Bags At The Gate
Check Your Bags At The Gate-Sermon Notes
Trials
Trials, Offenses and Emotions
Healing
Help for Healing
A New View for the Old You
4. Salvation
How To Overcome Sin In My Life
Salvation
Salvation – Sermon Notes
The Joy of being Forgiven
The Joy of being Forgiven-Sermon Notes
Coming of The King
Coming Of The King – The Salvation
The Death Of A King
5. Family and Relationships
Spending Your Time
Spending Your Time – Sermon Notes
Destroying Relationship Destroyers
Destroying Relationship Destroyers – Sermon Notes
Rebuilding Families
Rebuilding Families-Sermon Notes
Proverbs 31 Mother's Day Message – Sermon Notes
God's Request vs. God's Requirements
Godly Mothers
Friendships & Dating
Peace, Purpose, and Provision
6. Fruits of The Spirit
Fruits of The Spirit
What Is A Father
What Is A Father – Sermon Notes
Biblical Job Description for Father
Principle or Preference
Principle or Preference – Sermon Notes
Hey Blockhead
Hey Blockhead – Sermon Notes
Spiritual Morality Part II
7. Worship
Prepairing for Praise and Worship
Cindie Byshop – I Was Made For Love
I Was Made For Love – Sermon Notes
Worship The Creator Through Sight
Worship The Creator Through Sight – Sermon Notes
Worship The Creator Through Taste
Worship The Creator Through Taste – Sermon Notes
Everyone Worships – A Touch and Smell Connection
Everyone Worships – A Touch and Smell Connection – Sermon Notes
Receive, Reflect, and Resemble
Blocked in The Spirit
8. Servant's Heart & Servant Leadership
Opportunities Presented To You By God
Opportunities Presented To You By God – Sermon Notes
Serving God
Serving God – Sermon Notes
Serving Others
Serving Others – Sermon Notes
Your Spiritual Growth
Your Spiritual Growth – Sermon Notes
Altar Your Ego! (Conflict Resolution)
Altar Your Ego! (Conflict Resolution) – Sermon Notes
9. Tithing
Learning Self-Discipline
Learning Self-Discipline – Sermon Notes
Game Over! What Do You Treasure
Game Over! What Do You Treasure – Sermon Notes
Tithe
Tithe – Sermon Notes
Jesus Christ – The Biggest Giver Of All – Sermon Notes